Edge2 Features, Innovative Smart Mopping Robot - Everybot 
Powerful and Efficient Cleaning  - The powerful and dynamic motor spins mop discs and creates high friction on the floor, it enables the robot to drive and clean at the same time.

Pressure Mopping - Edge 2 does not just go through, it scrubs and cleans with pressure of its own weight and friction from spinning mop discs. You can expect high quality of floor mopping just as you have mopped by yourself, but without effort.

Wet Mopping  - 210ml water tank is located inside the robot and provide water in a regular basis to keep the mop pads wet during 120min of cleaning.

4 stage of water supply level - Dry mode < Level 1 < Level 2 < Level 3 and 'Drain water' function on remote control will help you to keep the robot clean and hygienic.

Innovative Mop Pads - Two types of mop pads would help you with more effective and efficient cleaning. Spinning mop is not only for scrubbing the stain on the floor but it is able to collect pet hair and dust as well.

Smart Cleaning - With Various safety and smart functional sensors, the robot detects obastacles and cliffs and avoid encounter or falling.

Silent Cleaning - With only 42dB of low level of noise, it won't distrub you when you need a quiet moment and so as your pets would not even recognize it when they are in sleep.
| | |
| --- | --- |
| Brand | EVERYBOT |
| Model Name | EDGE2 |
| Product Dimensions | 13"L x 6.6"W x 3.52"H |
| Included Components | Instruction Guide, Mop Pad, Charging Adapter |
| Battery | 1 Lithium Ion Battery Included |
| Battery Life | 120 minutes |
| Item Weight | 3.2 pounds |
| Water Tank Size | 7oz (210ml) |
| Noise Level | 42 dB |
| Manufacturer | EVERYBOT INC. |
| Item Model Number | RS350 |
| Country of Origin | Korea, Republic of |
ESTIMATED SHIP TIMELINES*
FREE SHIPPING IN UNITED STATES
Handling time: 1 – 2 Business days (Monday to Friday)
Transit time: 2 – 6 Business days (Monday to Friday)
If your shipment does not arrive e.g., lost in transit, be sure to get in touch with us ASAP, and we will sort it out for you.
IMPORTANT: Customers are responsible for providing us with the CORRECT shipping and billing ADDRESS & PHONE NUMBER. If you realize that this is incorrect, please contact us as soon as possible. If the product has already been shipped, a refund cannot be processed until the product has been returned to us.
Upgrade your lifestyle with the ultimate game-changer!
Introducing the cutting-edge Edge robot mop, the hottest-selling product of the new generation. Experience unbeatable cleaning power with a whopping 100% product weight pressure, coupled with a revolutionary wheel-less design, that makes every mopping session flawlessly perfect. Take advantage of this must-have household innovation!
Edge2. The new generation of best selling Korean robot mop.
Edge2's unique 'Wheel-less' structure means that it does not have any wheels. Instead, it uses its weight and a floating suspension system to move around and clean the floor. This design allows Edge2 to reach areas that other robot mops with wheels cannot reach, such as under low-profile furniture or into tight corners. Moreover, the absence of wheels eliminates the risk of scratching delicate surfaces or leaving tire marks on the floor, which can be a common issue with traditional robot mops.
Powerful Cleaning Achieved Through Its Weight
Edge2 is designed to use its weight to deliver powerful cleaning results. Its 3.2-pound weight puts pressure on the mop cloth, ensuring that it is in constant contact with the floor and is able to remove dirt and stains effectively. This feature makes Edge2 more efficient at cleaning than other robot mops relying solely on their motor power to achieve effective cleaning.
Introducing the Edge2 robot mop with its cutting-edge optimized mopping algorithm!
This genius robot navigates your home with advanced AI learning and big-data analysis features, developed by analyzing the layouts of over 100K homes to collect data and optimize the bot's mechanics.
This innovative technology allows the Edge2 robot mop to clean your home more efficiently. With its optimized mopping algorithm, you'll experience the most precise and thorough cleaning possible with no wasted effort or time. Say goodbye to inefficient and time-consuming cleaning methods and hello to the future of cleaning technology with the Edge2 robot mop!
Edge2's Six Cleaning Modes Allow Customizable Cleaning Experience.
Functions of Edge2's six cleaning modes
1. Auto Cleaning: Ideal for daily mopping, Edge2 moves around the room randomly, covering the entire area with its water tank and microfiber cloth.
2. Intensive Cleaning: Suitable for deeper cleaning, Edge2 uses a more powerful water flow and spends more time in a specific area to ensure thorough cleaning.
3. Focus Cleaning: Targets cleaning a specific area or spot with a spiral pattern, starting from the center and expanding outwards.
4. Edge Cleaning: Suitable for cleaning along edges and corners of walls and furniture with its side brushes and water flow.
5. 50min Cleaning: Ideal for quickly mopping small areas or rooms for 50 minutes.
6. Step Cleaning: Mimics a human footstep cleaning action with a straight line motion, covering a small area with a middle level of cleaning power between the intensive and auto-cleaning modes.
The Slimmest, Fastest, and Quietest Robot Mop Yet!
Introducing the slimmest and sleekest robot mop, the EDGE2! With its 3.5 inch thin design, this genius robot can easily access the most hard-to-reach spots under furniture or edges on the floor.
Experience lightning-fast cleaning power with EDGE2's powerful motor. It can cover up to 1500 sqft in just 120 minutes!
Enjoy peaceful cleaning sessions with EDGE2's ultra-quiet operation, producing only 42dB of low noise level. Even your furry friends won't notice it while they're sleeping.
With smart and delicate sensors, EDGE2 is equipped with anti-collision and cliff detection sensors to prevent bumping into obstacles or falling off cliffs.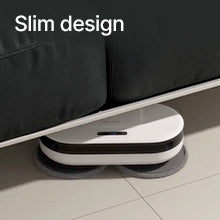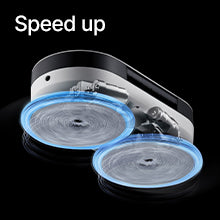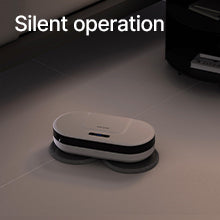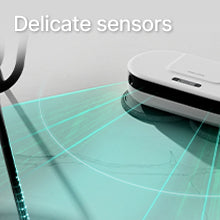 Automatic water supply system
Say goodbye to manual water supply with the Automatic Water Supply System of our latest robot mop! It will keep the mop pads wet during the whole cleaning process, saving you time and effort. You can control the water supply level with just a single touch of a button or with the remote control, making it easy to use!
Convenient and larger capacity of water tank
Enjoy a convenient and larger capacity of the water tank with our robot mop, which holds 210ml of water and provides regular water supply for up to 120 minutes of entire operation time. The wide opening of the water tank allows for easy cleaning and maintenance.
Replaceable mop pads
Our robot mop also comes with replaceable mop pads that are detachable and washable. You can use your preferred cleaning solution or detergent by spraying it directly on the pads. The microfiber mop (Green) is perfect for polishing various types of hard floors, while the mother yarn mop (Grey) is great for capturing dust and hair while scrubbing the floor.
What's in the box?
A. Main Unit
B. Mother Yarn Mop 2 Pcs
C. Product Guide
D. Adapter
E. Remote Control
F. Microfiber Mop 2 Pcs
Operation time
Height
Weight
Water tank
Surface Recommendation
Noise level
Control method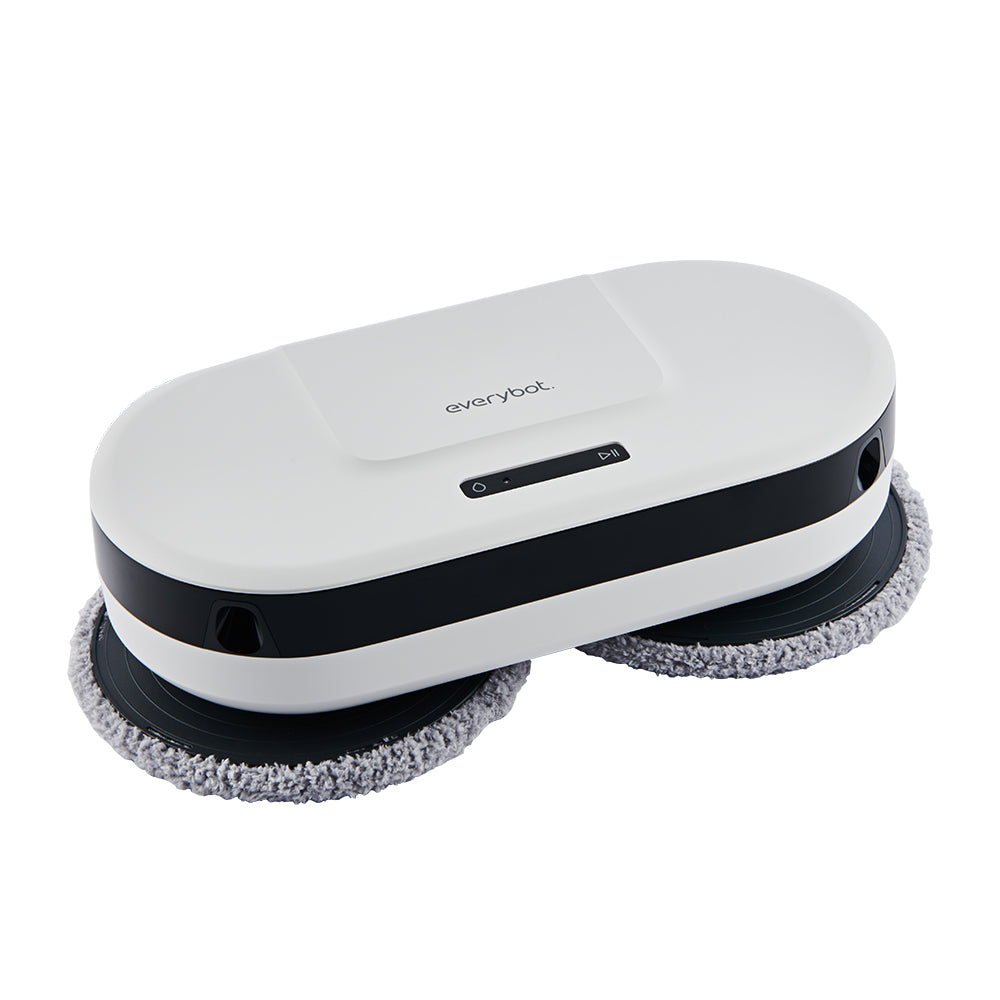 Edge2
120 min (Max)
3.5 inch
3.2 lb
210ml
Hard floor
42 dB
Remote control
Three Spin
120 min (Max)
3.9 inch
4.4 lb
300ml
Hard floor
43 dB
Remote control