Three Spin Features, Ultimate Hard Floor Mopping Robot - Everybot 
Extremely Quiet Operation  - EVERYBOT robot mop offers a new way to clean your floors and make your life much more accessible than before with a surprisingly 43dB Library Noise Level. Whether you are drinking coffee or reading a book to your kids, or even in the middle of the night when everyone is asleep, this robot mop will quietly clean the floor on its own without disturbing you.

Overwhelming Mop Performance - Engineered with "Dynamic Spinning Technology" patented by EVERYBOT, the Floor Mopping Robot features a Unique Wheelless structure consisting of 3 round-shape mop pads clean and drive at the same time to maximize floor mopping performance. Experience a sparkling clean floor with this mopping robot.

Intense And Deep Cleaning  - This wet robot floor cleaner can get into the hardest-to-reach areas such as Under Bed & Couches with its 4.3-inch height Slim Body and cleans up edges and corners Meticulously with its extended mop pad structure. Its advanced technology can mop the entire house in one go, tackling everything from dirt, dust, stains, and pet hair.

Anti-Collision & Anti-Drop Sensors - - The Robotic Mop is built with 11 High-Precision smart sensors on its circumference that quickly detects any object or furniture, ensuring No Collision. Its Anti-Drop Sensor avoids falling from high places such as stairs or hallways and moves away to clean your home efficiently and safely.

Powerful Cleaning Performance - With a powerful battery of 2,150mAh and a 300ml large automatic water tank, this smart mop optimizes Energy Efficiency. It ensures Long-Last Battery Capacity that can clean a 1,500sqft area for over 120 minutes on a single charge.

Easy And Convenient To Use - No more studying hard-to-operate robot cleaner. A Single Touch Button on the main body of the floor mop will start the mopping immediately. Choose from 7 different cleaning modes based on the intensity of cleaning and the type of floor you want to clean via the remote control.

Sensational Design - The design that considers user convenience and aesthetics at the same time has won both the world's most prestigious iF and Reddot Design Awards. It can be placed anywhere in the house and will look Harmonious  and will not take up much space.
| | |
| --- | --- |
| Brand | EVERYBOT |
| Model Name | Three Spin |
| Product Dimensions | 12.8"L x 12.05"W x 3.9"H |
| Included Components | Instruction Guide, Mop Pads, Charging Cradle |
| Battery | 1 Lithium Ion Battery Included |
| Battery Life | 120 minutes |
| Item Weight | 4.4 pounds |
| Water Tank Size | 10oz (300ml) |
| Noise Level | 43dB |
| Manufacturer | EVERYBOT INC. |
| Item Model Number | TS300 |
| Country of Origin | Korea, Republic of |
ESTIMATED SHIP TIMELINES*
FREE SHIPPING IN UNITED STATES
Handling time: 1 – 2 Business days (Monday to Friday)
Transit time: 2 – 6 Business days (Monday to Friday)
If your shipment does not arrive e.g., lost in transit, be sure to get in touch with us ASAP, and we will sort it out for you.
IMPORTANT: Customers are responsible for providing us with the CORRECT shipping and billing ADDRESS & PHONE NUMBER. If you realize that this is incorrect, please contact us as soon as possible. If the product has already been shipped, a refund cannot be processed until the product has been returned to us.
Dedicated Humanlike Robot Mop
The EVERYBOT Three Spin Robot Mop is so quiet that even your pet dog will not notice it when it's fully functional and operating at its peak. This Robot Mop is perfect for every household's cleaning chores as it will save you a lot of time in cleaning your house. Efficient and robust, the Robot Mop is an all-rounder safety cleaner. It is installed with intelligent microchips and sensors that will prevent the bot from colliding with any walls or furniture while also preventing the bot from falling from higher levels, thus ensuring your and the bot's safety. The mop performance is very efficient as it will clean deep inside every corner of your house with intensity and meticulously to remove dirt, dust, and pet hair from hard-to-reach areas. The champion of all Robot Mops combined with its aesthetics, the EVERYBOT robot mop has won the world's most prestigious iF and ReddotDesign Awards. The revolutionary Robot Mop offers a new way to clean your floors and make your life much more accessible than before with a surprisingly 43dB low noise level.
EVERYBOT Three Spin Robot Mop
No More Back Aches or Stress To Clean Your House
The three mop structure beneath the robot mop does not have any wheels and manoeuvers itself by firmly gripping the floor and simultaneously cleaning and moving using the three mops attached beneath it. The three mops press and wipe so firmly that it removes any dirt, dust, and pet hair from the most remote corners of your house. Taking advantage of the 3-mopped robot mop will make you free from manual work and back aches. The bot will handle the stress of cleaning your home before a party or a get-together and won't get emotional.
ALL-ROUND SMART CLEANING SOLUTION FOR YOUR HOME
Cleans Stealthy
You can now enjoy your leisure time without being disturbed by anyone or anything, even the cleaning robot mop, as it will stealthily clean your home without disturbing you or your pets. The silent bot cleans your house and living space without noise while your pets or babies sleep soundly. Even dogs won't wake up if the robot cleans beside it due to its silent feature and decibel reduction design with the mop structure, which are also patented. Three Spin Robot Mop is the only bot that provides such efficiency while also being silent, so you'll be able to enjoy watching movies or resting. At the same time, your home is being cleaned silently without any hassle, stress, or noise.
Optimized Mopping Algorithm
Three Spin robot mop navigates with an optimized mopping algorithm. Its advanced AI learning and big-data analysis feature were developed by analyzing over 100K homes' layouts to collect the data and then optimizing the bot's mechanics.
This Robot Makes Your Home Spick-And-Span With It's Meticulous Cleaning
The three-mop structure protrudes beneath the bot, and the height of only 3.9 inches is designed to clean the most hard-to-reach corners of your home flooring, keeping every remote corner of your home clean as a whistle. Silently cleaning the floors, once the cleaning procedure is finished, you'll be able to see your reflection on the floor as Three Spin Robot Mop will make your floor shine and make it spotless.
Operation time
Height
Weight
Water tank
Surface Recommendation
Noise level
Control method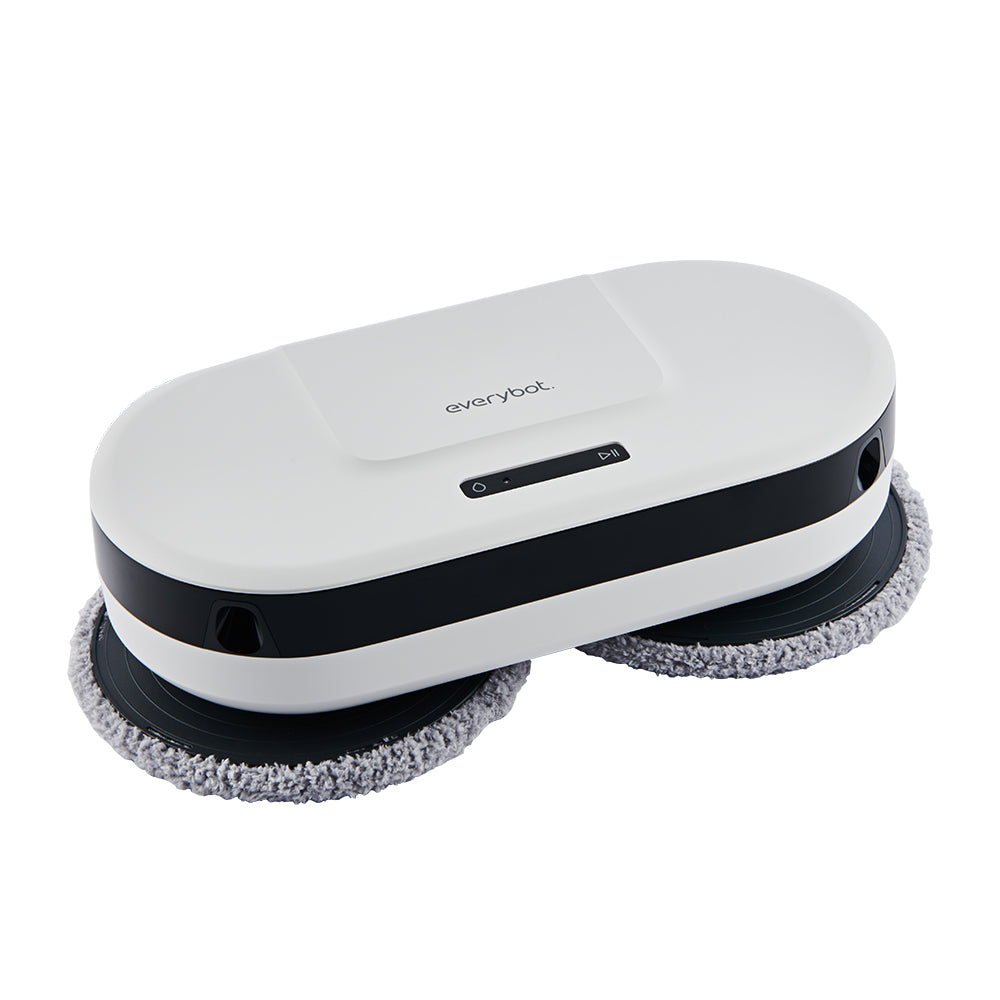 Edge2
120 min (Max)
3.5 inch
3.2 lb
210ml
Hard floor
42 dB
Remote control
Three Spin
120 min (Max)
3.9 inch
4.4 lb
300ml
Hard floor
43 dB
Remote control